Contact Information
---
---
WORLD WIDE WILP
---
"VIEW FROM SPACE"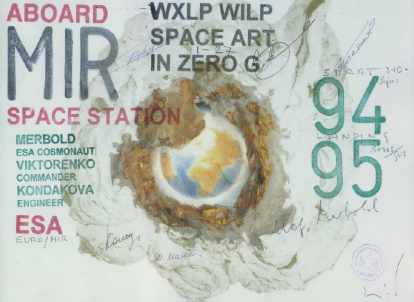 ABOARD EUROMIR 94
SPACE STATION

Signed by:
VIKTORENKO COMMANDER
KONDAKOVA ENGINEER
MERBOLD ESA RES COSMONAUT
Erstes permanentes Kunstwerk an Bord der Weltraumstation MIR
Eine "Alternativ-Documenta" im Weltall.
Laserscan printed on gold plated Capton foil that usually protects satellites from the rough conditions in space. In the centre of the image the foil is used together with Stycast, a high-resistive transparent material for satellite construction.
50 pieces of this work of art are flying on the EUROMIR 94 mission. They will be stamped in space, signed by the cosmonauts and Ulf Merbold and return to Earth. A smaller size reprint signed by 24 EC Ministers of Research will be hanged in the MIR Station. It will be the first permanent work of art in space.
---
---
Contact Information
general media ltd
Ingrid Schmidt-Winkeler
Fr.-von-Spee-Str. 47
D 40489 Düsseldorf
Fon: +49 (0)211- 40 45 25
Fax: +49 (0)211-405 99 58
email: ARTandSPACE@t-online.de
---
| | |
| --- | --- |
| © by general media ltd 2006 | |